---
VENUE
The 9th International Symposium "Systems with Fast Ionic Transport" will be organized in capital of Latvia Riga. Symposium will take place at the Main Building of the University of Latvia at the City centre - Raina boulevard 19, Riga.
Some facts about Latvia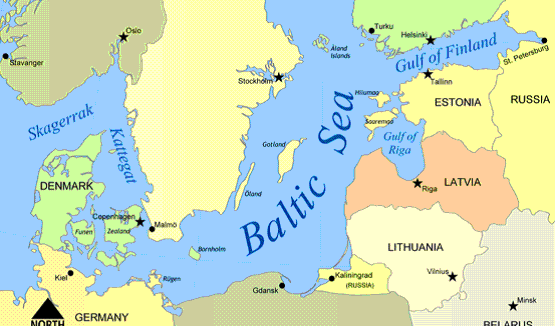 1. LATVIA: IN BRIEF
Latvia is situated on the shore of the Baltic Sea, sharing borders with Lithuania to the South, Estonia to the North, Russia to the East and Belarus to the South East.
Territory and population
The area of Latvia is about 64 thousand square kilometres. The population of the Republic is 2.3 million people, of which 59% Latvians, 28% Russians, 4% Byelorussians, as well as Ukrainians, Poles, Lithuanians, Jews and other nations.
The biggest cities are: Riga (722 thousand inhabitants), Daugavpils (108 thousand inhabitants), Liepaja (85 thousand inhabitants), Jelgava (66 thousand inhabitants), Jurmala (55 thousand inhabitants) and Ventspils (43 thousand inhabitants).
Latvia is divided into four historical areas: Vidzeme, Kurzeme, Latgale and Zemgale. The highest peak is Gaizinsh standing at 311.5 meters. The climate in Latvia is moderate with some temperature fluctuation. The summer is warm, the weather in autumn and spring is relatively mild but the unstable winters sometimes getting really cold.
Languages
The official language is Latvian. Russian language is often spoken, English and German not too common but in use.
Religion
Latvia has no official religion, but most population is Lutheran, Catholicism prevails in the East. The Orthodox and Old Believer communes in Latvia are rather large. In general the society is tolerant to different religions, however the church does influence the mood of society.
State symbols
The Latvian flag is very similar to the Austrian flag, but darker in colour. It is made of bands of dark red, white, and dark red (from top to bottom). The white band is narrower than the red ones. The national anthem "Dievs, svēti Latviju!" (God, bless Latvia !) was written by a Latvian Composer Karlis Baumanis in the second half of the 19th century and became the national anthem in 1918. The Latvian Coat of Arms – a shield with a rising sun on the blue background at the top; the red lion on the silver background to the left and the silver griffin on the red background to the right.
State political system
Latvia is a Democratic Republic. The Prime Minister is appointed by the President of the Republic and is the head of the government. The President of Latvia is elected by the Parliament and runs a four year term. The President is mostly representative authority, however he can block some decisions of the parliament.
International relations
After the restoration of independence in September 1991 Latvia headed towards joining European and international organizations, since April 2004 Latvia is a member of NATO and since May 2004 – a member of the European Union. Latvia is a member of WTO.
2. LATVIAN HISTORY
Latvian history can be divided into two periods:
1. Before the national republic was founded (in 1918)
The first state formations on the territory of modern Latvia were founded in the XIII century by German knights. In the 16th-17th centuries Latvia was ruled by Polish-Lithuanian princedom and Sweden and in the beginning of the 18th century – by Russian Empire. World War I and the revolution in Russia create the necessary prerequisites for the foundation of an independent Latvian state.
2. Latvian history in the XX century
The independent Latvian republic was proclaimed on November 18, 1918 . In 1940 Latvia loses independence end joins the USSR . The Gorbachov's Perestroika and the breakdown of the Soviet Union lead to restoration of the independent Latvia Republic in on August 21, 1991 .
3. AIR TRAVEL
For arranging your flights to/ from Riga, we suggest to use the following information sources:
You can find flight schedules as well as book flights online at www.airbaltic.com
Other major European air company operating flights to/ from Riga:
Riga International airport site at www.riga-airport.com provides list of all airlines operating flights to/ from Riga.
4. MONEY, TRANSPORT, COMMUNICATION IN LATVIA
Time
Latvia is in the − GMT +2 time zone. If you arrive from London, put the clock back for two hours, from Moscow – forward one hour. For precise time call 154 (in Latvian) or 174 (in Russian).
It is quite hard to find a 24/7 store in Riga. The supermarkets usually open at and close at . On Saturdays and Sundays grocery stores are usually open but the others are either closed or close earlier. Banks and museums close at . Most large cafes are open until − . Most service enterprises work without a lunch break.
Money and payment cards in Latvia
The currency in Latvia is Lat (Ls), one Lat is equal to 100 santims. The Lat exchange rate is stable. One Lat is equal to app. 1.4 Euro or 2 Dollars. There are 5, 10, 20, 50, 100 and 500 Lat notes and 1 and 2 Lat and 1,2,5,10,20 and 50 santim coins. Currency exchange has a billboard "Valutas maina". There are no legal limitations of currency transfer across the borders of Latvia . You do not have to show your passport to change currency.
There is no problem with getting cash from your payment cards as there is a broad bank machine network that lets you get Lats in almost any town of Latvia. Except offices, banks and central streets there are bank machines in large shopping centers and fuel-tanks. Most stores, hotels, restaurants accept debt and credit cards.
Before departure ask the bank that issued your card about fees for cashing it and paying for goods. You can cash also in Travel cheques American Express & Thomas Cook in bank offices.
Telephone
Latvian telephone connection is almost totally digital and for that reason of very high quality. Connection is fast and easy and audibility is usually very good. You can call any place in the world from phone booths located all around Latvia. You can use a 2, 3 and 5 Ls call card, sold in all press boots, or with a credit card. Phone-calls in Latvia are quite expensive. There are instructions in every phone booth. You should remember that a call to Europe or USA costs less than a call to Russia or CIS countries. To call a foreign number you should dial 00 and then (don't wait for the beep) the code of the country you are calling and the telephone number.
Mobile communication
Mobile connection in Latvia is very well developed. Almost all territory of Latvia has cell coverage. Pay attention to the fact, that mobile phone users do not have to pay for incoming calls and a call from a stationary phone to a mobile phone usually costs much more, so you will save by calling a mobile phone from another mobile phone.
Tourists are recommended to buy pre-payment cards – "O karte", "BiFri" or "Zelta Zivtina" that provide you with a temporary number and call opportunity for local prices.
Mail
Mail in Latvia works well. Letters are usually delivered on the next day (across Riga ) and in one-two days across Latvia . International letters are usually delivered in under a week. To send a letter you have to buy post stamps in post offices or Narvessen shops and stick them on envelopes. Across Latvia – 35 santims, European counties and Russia – 55 santims, to other countries – 60 santims.
Transport
Riga has no subway but there are trams, trolleybuses, buses and route taxis. Public transport fee is 50 santims, taxi-buses – 50-70 santims. You pay the conductor as you enter except trams, where you can buy ticket from the driver for 70 santims or need to buy tickets beforehand at any press boot. There is very little transport after 11 PM. Some routes have duty buses and trams (once in an hour).
• You can find the list of tram trolleybus and bus routes and their timetables at www.rigassatiksme.lv (the information is available in Russian, English).
• Local train timetable at Latvian railroad web-site (Russian and English available).
• Local Latvian bus timetable at Riga Autoterminal web-site
Taxi
There is no problem with finding a taxi in Riga. Day fee ( ) is approx. 1.00-1.50 Ls for entry and 0.40-0.50 Ls p/km. Night fee is more expensive.
Taxis are available at taxi stops and via phone. A ride across the city will cost you 5-8 Ls. You have to count traffic jams in Riga, especially during rush hours (7.00-10.00 and 16.00-19.00), which will increase the travel time and the fee.
We don't usually stop private cars in Latvia. Hitchhiking is not generally in style.
Information services
Main information telephone number is 1188 − paid service. A call costs app. 10 santims + the time of your conversation with the operator on a standard tariff. Service quality is very high, operators are able to answer even the most unexpected questions. Operators speak Latvian, Russian and English.
To find companies and enterprises in Latvia, we recommend online data-base www.zl.lv, or www.1188.lv Latvian commercial data base, where you can find juridical data and official financial report data on a concrete company is available at www.lursoft.lv but is mostly on a paid basis.
5. MAP OF RIGA
6. OTHER USEFUL LINKS IN LATVIA
In order to find more about Riga and Latvia, please, check the following links:
Information about Latvia and its people – Latvia in brief, symbols, nature, history, society, culture, economy: www.li.lv
Riga In Your Pocket Guide – arrival, hotels, local essential information: www.inyourpocket.com/latvia/riga/en/
Virtual Riga – hotels, map, travel info: www.virtualriga.com
Interactive Maps of Latvia – institutions, leisure, shopping, transport, services: www.uzkartes.lv
Currency exchange rates – The Bank of Latvia, financial information, exchange rates: www.bank.lv
Weather online Riga and Latvia www.weatheronline.co.uk/Latvia.htm; www.meteo.lv
Information about the city of Riga
For more information about Riga see: http://www.riga.lv/
University of Latvia
For more information about University of Latvia see: http://www.lu.lv